I keep thinking this is obvious, but then something like the (latest) massacres in Paris happen and our reaction shows that we just don't get it. The point is: Islamic radicals want us to hate Muslims. It is their best recruiting tool ever.
An article in The Washington Post spells it out:
This is precisely what ISIS was aiming for — to provoke communities to commit actions against Muslims. Then ISIS will be able to say, "I told you so. These are your enemies, and the enemies of Islam."
And it isn't like we haven't fallen for this before. A dozen years ago, the Islamists even told us this was their strategy:
This strategy gained traction in the early 2000s after al-Qaeda was sent into hiding by Western military action. Abu Musab al-Suri, an influential jihadi thinker whom the Wall Street Journal called "the new mastermind of jihad," argued for a distributed network of terrorist cells recruited from the Islamic diaspora, carrying out terrorist strikes in their own communities. These attacks, and the backlash they generated, would inspire others to radicalize.
The US is big and powerful, and we have meddled in the Middle East enough times to make plenty of enemies there. But they cannot attack us directly – nation to nation – that would be suicide. So instead, they got 20 people with box cutters to destroy the twin towers for them. And we played right into their hands. After 9/11, we attacked Iraq, and ended up creating the group variously known as ISIS, ISIL, or Daesh (the derogative Arabic term for the Islamic State, and now my preferred term).
And the west keeps falling for it. After the Charlie Hebdo attacks in January, attacks against Muslims and vandalism of mosques more than quadrupled in France.
This time around, the reprisals are even more widespread. A mosque in Canada was deliberately set on fire. In liberal Portland Oregon, protestors held a rally outside a mosque wearing T-shirts saying things like "Proud to be an infidel, Islam is a LIE". Other Islamic buildings received threatening phone calls, like one in Florida:
We are tired of your [expletive] and I [expletive] personally have a militia that is going to come down to your Islamic Society of Pinellas County and firebomb you and shoot whoever is there in the head.
Think about it for a second. Why would Islamic militants stage an operation that kills 129 people in Paris? Certainly they aren't so stupid that they think it will make the west stop bombing them.
Just last month, they planted a bomb on a Russian airplane leaving Egypt, killing almost twice as many people than died in Paris. But somehow that didn't work as well. They need to take the terrorism to where we live, whether it is Paris or New York. Even more important, they need to take it to cities where there are large Islamic populations, so they can radicalize even more future terrorists.
And they do need to create more future terrorists. The vast majority of Muslims are against terrorism. Just this week, the King of Jordan (a Muslim country that shares a large border with Syria) denounced Daesh, saying "The atrocious Paris attacks shows that scourge of terrorism can strike anywhere and any time." He also announced a war against the Daesh terrorists (Jordan is already bombing Daesh in Syria, so this is no hollow threat).
Unfortunately, our reaction to Paris here in the US is even more idiotic than normal this time. Yes, our Republican presidential candidates are waving their sabers around, but that sadly is normal. No, the big news is that 30 governors have announced that they will refuse to let Syrian refugees settle in their states.
First of all, how in the world would a state government stop someone from settling in their state? Religious quizzes at the state border? Even more traffic stops of people who look middle eastern? It boggles the mind. But even if there was a physical way to stop them, what legal reason could they use to stop them? A law explicitly discriminating against Muslims? They would have to repeal the First Amendment before they could do that.
But that doesn't matter. Do the governors realize just how idiotic this is? The Syrian refugees are people fleeing Daesh. They are trying to get away from Daesh. Indeed, absolutely none of the Paris terrorists were Syrian refugees. They were Muslims already living in Europe. It would make more sense for the governors to threaten to deport all Muslims living in their states (not that it makes any sense at all).
So not letting Syrian refugees find a new home means that they won't be able to leave Syria and will be stuck there under Daesh. Is that what we want? If you are a Muslim living in the US, and your siblings or parents are unable to leave Syria, who are you going to blame? If your mosque is set on fire, or your friends are beat up by some skinhead, at whom are you going to get angry?
I'm not saying that two wrongs make a right. I'm just saying that through our actions, we managed to create Daesh and we continue to be their best recruiting tool. Just look at our results. They are playing us like idiots, and we keep falling for it.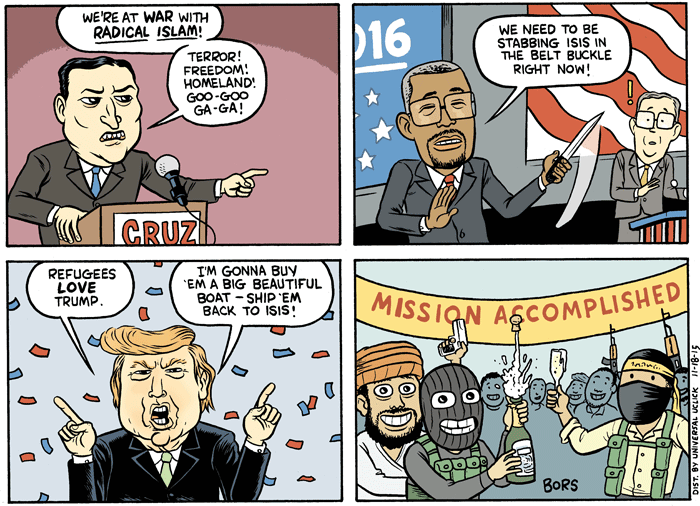 © Matt Bors
The last panel of this comic shows the terrorists popping open a bottle of champagne, even though the Muslim religion prohibits alcohol. Maybe this is a subtle reminder that the terrorists in Paris were not particularly religious.
UPDATE: Republican-controlled House has passed a bill to severely restrict the entry of Syrian refugees to the US. Obama is threatening to veto the bill, assuming it gets through the Senate.