Can you tell the difference between a Daesh terrorist and a Syrian Refugee. It isn't that difficult!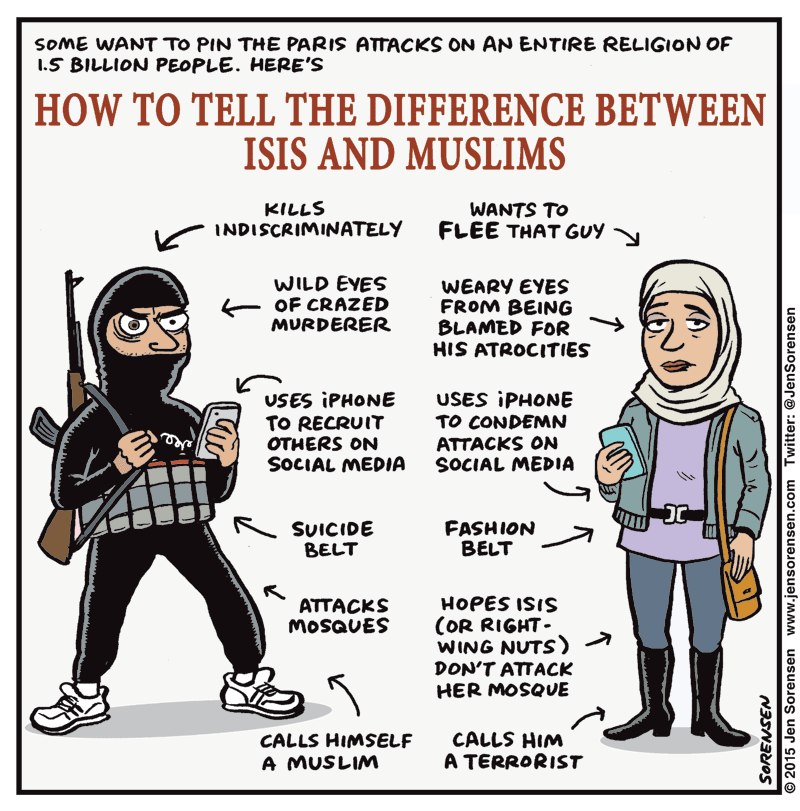 © Jen Sorensen
In the wake of the Paris attacks, we are scared shitless of the Syrian refugees, even though these are the people who are trying to escape Daesh. Besides, all the Paris terrorists had European passports. You would think that the smart thing to do would be to support those people fleeing the Islamic State, rather than demonize and punish them. But I guess we don't do "smart" any more.
UPDATE: Jon Green has an awesome rant about the anti-refugee Republicans. It is short and you really should read the whole thing, but I'll bait you with a few sentences from it, discussing the Governors who have said they won't let refugees enter their state:
These governors know the rules, and are saying they'll ignore them to make their constituents feel like they're doing something about, you know, those people. But with the overall level of nonsense from Republicans in positions of power getting out of hand, getting them together to go back over the basics became necessary. No, they can't violate the Refugee Act of 1980. Yes, if the federal government decides that "orphans under the age of 5" don't pose a national security risk, Chris Christie will have to deal with it. No, religious tests for refugees are not constitutional. And seriously, John Kasich, we are not launching a new federal program for spreading Judeo-Christian values abroad.
Green also points out the stunning stupidity of Republican proposals to "solve" the refugee problem. Like that law that the House just passed to require refugees to get clearance from the FBI and the Department of Homeland Security before we let them into our country. That sounds great until you find out that we are already doing it!