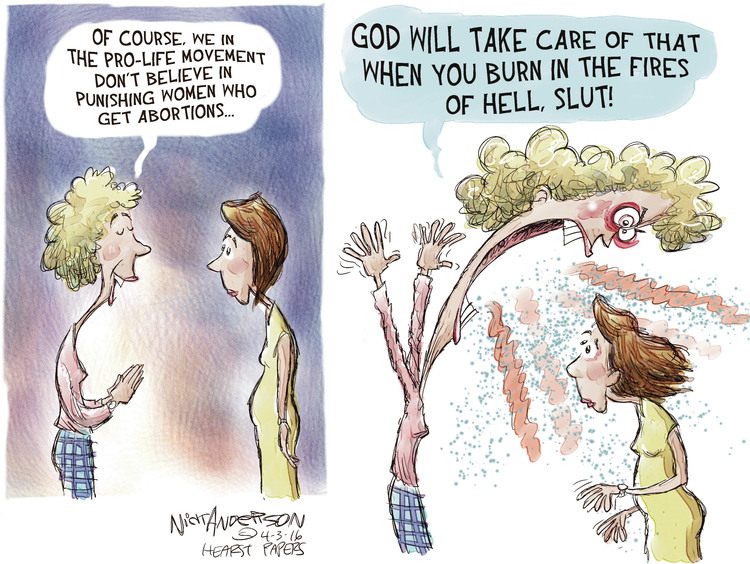 © Nick Anderson
The "pro-life" movement claims that they are against punishing women who get an abortion. I guess Trump didn't get the memo. All he said was that if abortion is murder (as anti-abortion forces fervently believe), then there has to be some kind of punishment. According to US law, it is still murder even if you hire someone else (even a doctor) to commit it.
So do you believe the pro-life people, or is this just a lie because they know that the majority of Americans are strongly against punishing women? Was Trump just saying out loud what they are secretly thinking?
Instead, they want to punish abortion doctors and clinics. In the US alone at least eleven people involved in providing abortions have been killed, and that doesn't include the 17 attempted murders, 13 people wounded, 153 incidents of assault or battery, 383 death threats, 100 acid attacks, 3 kidnappings, 41 bombings, 173 cases of arson, 655 anthrax threats, and over 400 cases of vandalism committed against abortion providers and clinics.
And of course, it is ok to punish women by passing laws making it difficult or embarrassing to get an abortion. Since the 2010 midterm elections, states have passed 288 laws restricting abortions.
UPDATE: If they really want to save lives, let's do something about the almost six million children under the age of five who died in 2015, and the 300,000 women who died from pregnancy-related causes. According to a study funded by the Bill & Melinda Gates Foundation, it would be relatively easy and inexpensive to save the lives of 4 million people a year.