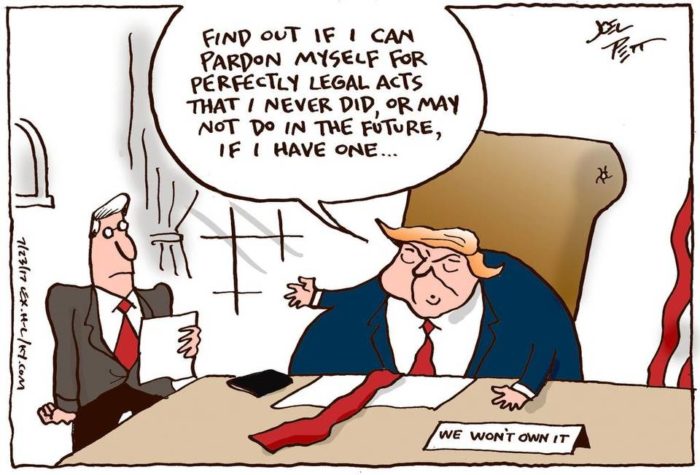 © Joel Pett
This is all over the news, so I won't go into much detail, but Donald Trump has launched an all out war against special counsel Robert Mueller. He started one of the biggest Twitter storms ever yesterday and it just keeps going. Trump is threatening to fire Mueller, which even pretty much all Republicans in Congress condemned as a very bad idea.
Trump is also trying to dig up dirt on Mueller (and Mueller's staff), so that he can smear them. Seriously. That will almost certainly backfire.
As this article points out, once Congress turns against Trump, then probably most of his base will follow. Trump may have already lost them, along with the CIA.
But the most dangerous thing is that Trump is claiming that he has the power to pardon everyone in his administration, even himself.
Think about that for a minute. If the president has the power to do anything he wants, even if it is illegal (you know, like shoot someone on 5th Ave) and then pardon himself, then we have completely lost our democracy and gained a despot.
Legal experts are actively debating whether or not this would be constitutional, but it doesn't matter. Absolutely no legal arguments will ever convince me that the founders of this nation, who had just fought a war against King George III of England for their freedom, intended for the president to have the powers of a king or dictator. What's next, Trump declaring "L'Etat, c'est moi"?
To me, this is a sign that Trump knows that he is in deep trouble, and is so desperate that he is reacting in the only way he knows how. Which means that maybe our current nightmare is almost over. I'm guessing that Donald Trump will resign as president before Mueller can release any results from his investigation. At least, I'm hoping that is how this will end. Either that or we will have a full-blown constitutional crisis on our hands and may very well lose our country.