Late last night, Senate Majority Leader Mitch McConnell introduced a bill that nobody had read (or even seen before). Then he brought the bill up for a vote this morning at 1am. Seriously. I'll probably be using that word a few times in this rant.
But it gets even crazier. Nobody liked this law. It didn't really count as repealing Obamacare, but still increased insurance premiums and kicked at least 16 million off their health insurance. It was a classic lose-lose. In fact, a bunch of Republican senators said they would not vote for it unless Speaker of the House Paul Ryan promised that the bill as written would not become law. Seriously. Which Ryan did promise.
And the heat was on, because the Republicans truly became the party of Trump, looking for a victory, any victory, regardless of the consequences. Winning to them was everything; anything else be damned, including their constituents, the people who would die for lack of health coverage, and even their country. Political theater was more important than America.
But it didn't work. The ACA survived the night, but apparently only because John McCain wanted to cement his reputation (and legacy) as a maverick. More political theater, since he had earlier voted for repeal. Or maybe he just wanted to stick it to Trump, since during the campaign Trump had questioned McCain's status as a war hero, and had said "I like people who weren't captured.".
What makes this doubly ironic is that immediately afterwards, McConnell tried to blame the Democrats for the loss, saying "I imagine many of our colleagues on the other side are celebrating, probably pretty happy about this. But the American people are hurting and they need relief." Really? Obamacare is quite popular now. Who needs relief, the wealthy who are hurting for their trickle-down tax cuts financed by the money saved by kicking people off their health insurance?
McConnell also said "And "Our friends on the other side decided early on they didn't want to engage with us in a serious way, a serious way to help those suffering under Obamacare". Actually, from a pure political standpoint it would have been far better for the Democrats if the Republicans had succeeded in repealing Obamacare. That would have assured that they won big in the midterm elections next year. So in fact the Democrats put what was right for the country and their constituents above what was best for them politically. I think that is pretty seriously something this country needs more of.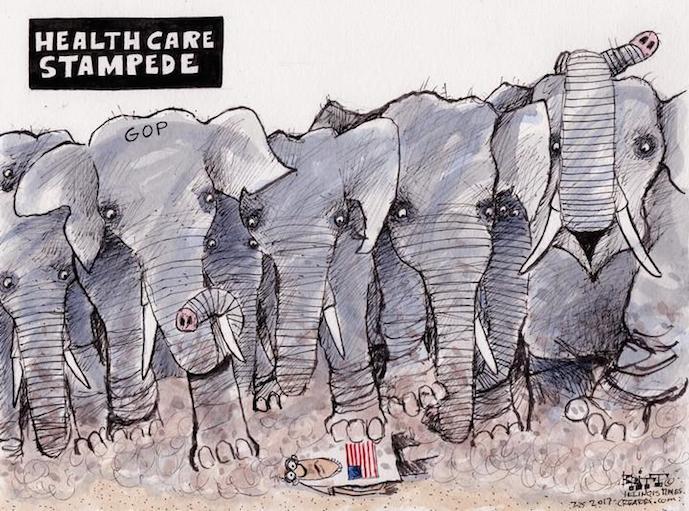 © Chris Britt
---
Also published on Medium.