You can't make this kind of stuff up. Can FEMA look any more incompetent?
With Hurricane Florence causing historically massive flooding on the east coast FEMA decided it was a good time to introduce a "Presidential alert" system, which would allow Donald Trump to send an emergency message to your mobile phone, which you cannot block and would interrupt phone calls and other usage of your phone. They announced that this system would be tested this Thursday, but then suddenly decided to delay that until October. Just what we need, Trump popping up on your phone unannounced and unavoidable. Still to be determined is how long will it take Trump to abuse this system by using it to brag about his beautiful accomplishments and attack people he doesn't like.
Speaking of abuse, Trump unwisely decided this was a good time to complain about how under-appreciated his wonderful handling of Hurricane Maria was, which devastated Puerto Rico. All that did was to remind people of how bad a job the Trump administration has done with hurricanes in the past, just as we are facing down another massive hurricane. Not to mention that Trump claims climate change is a hoax and has eliminated almost all efforts to fight it, even though scientists agree that global warming is making hurricanes and other severe weather even more severe and deadly.
Incidentally, Trump's head of FEMA jumped in to defend Trump, blaming "spousal abuse" for the death toll of Hurricane Maria. Seriously.
And speaking of FEMA chief Brock Long, he is now being investigated for personal use of government funds and equipment. Long is accused of breaking as many as six laws.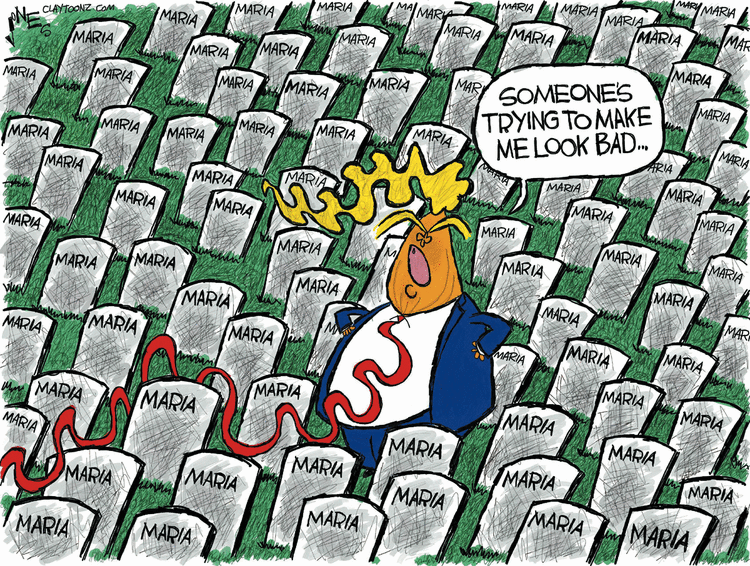 © Clay Jones
---
Also published on Medium.