It's a good thing I have sworn off posting articles about Sarah Palin. If I were posting anything about her (like everyone else), I'd point out the hypocrisy of her continuously using the phrase "lamestream media" when in fact her only job for the last few years has been working for Fox News (the lamest of the lamestream media). But I'm not posting articles about Palin, so you didn't read that here.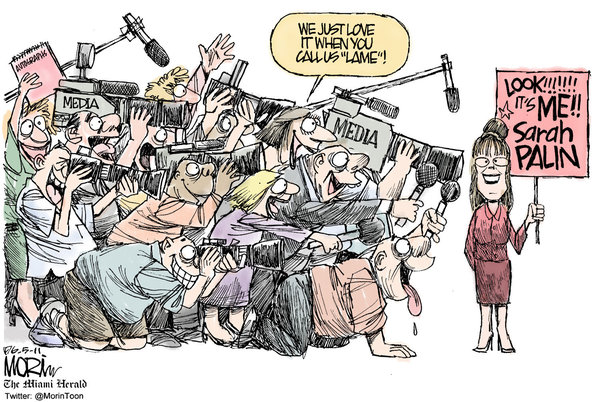 © Jim Morin
But here's something even more bizarre. We all know that Palin and reality are not good friends, but who would have thought that her supporters would try to rewrite history in order to match Palin's bizarrely botched version? Apparently, some wingnuts are trying to edit the Wikipedia page about Paul Revere so that it matches Palin's gaffe about Paul Revere ringing bells to warn the British to keep their hands off our guns.
UPDATE: Palin and the law are not good friends either. Apparently her bus tour has been breaking traffic laws right and left, speeding, running both red lights and stop signs, and making dangerous maneuvers. And the reporters following her are doing even worse, since Palin refuses to release a schedule of where she is going.
UPDATE 2: Jon Stewart nails it again: