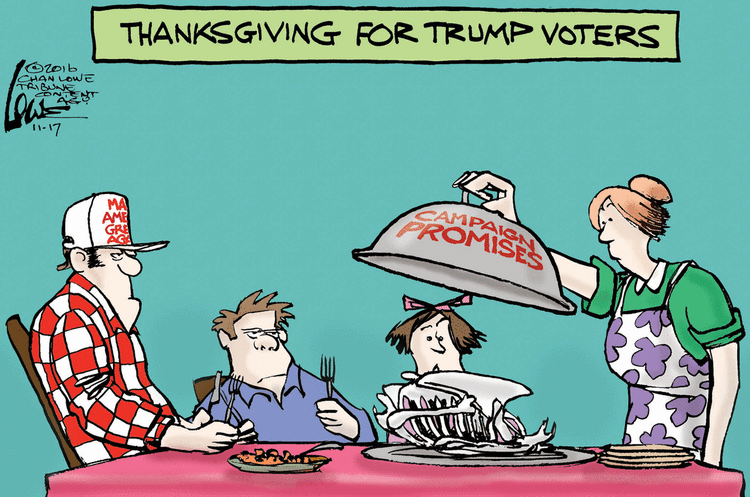 © Chan Lowe
Now that Trump is the president elect, "building the wall" with Mexico has somehow stopped being mentioned at all. Trump is already breaking campaign promises, and he isn't even president yet.
But that's not the biggest campaign promise that Trump is about to break. During the campaign, Trump promised over and over again "I'm not going to cut Social Security like every other Republican and I am not going to cut Medicare or Medicaid." Well, he is already changing his tune, and consequently updating his website. As Electoral Vote noted:
Now, it appears that Trump is seeing the light—at least, the one that emanates from Speaker Paul Ryan (R-WI). Ryan would like to replace Medicare with vouchers and block grants to states, with an eye to shrinking (and likely eliminating) the program in the long term. Sometime this weekend, Trump's transition website was updated to include Trump's belief that we need to "Modernize Medicare" (English translation: vouchers) and "Maximize flexibility for States in administering Medicaid" (English translation: block grants).
There's a name for this, and it is called "bait and switch". My only question is, if Trump follows "every other Republican" and cuts Social Security and Medicare, how are Trump supporters going to react? Will they find a way to blame this on the Democrats? Or will they realize that — as Paul Krugman points out — that this will be "one of the most blatant violations of a campaign promise in history".
What makes this even more ironic is that cuts to Medicare and Social Security will hurt Trump's most rabid supporters the most. Will they not care?